National-scale, comprehensive information on the condition and trajectory of our environment.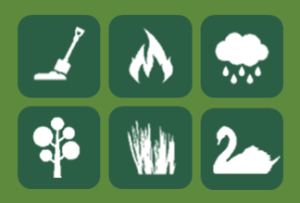 Our objective is to make spatial information on environmental conditions easier and faster to access for interested users. Data on 13 environmental indicators are organised in 6 Themes: land cover, bushfire, water availability, rivers and wetlands, landscape health, and carbon storage. Information can be accessed through:
Australia's Environment Explorer allows users to visualise and interpret national-scale information on each indicator by region and land cover type. The information can be accessed as maps, environmental accounts or graphs. Data can be compared to preceding years or downloaded for further analysis.
The Fact Sheet (4 pages,  ) concisely summarises the main changes in our environment during the previous calendar year.
The briefing material (slides,  ) illustrates the main findings using data from the website.
Information for the current calendar year is planned for release in January next year.
Below a quick visual impression, courtesy of NCI.
Acknowledgments
Australia's environment was developed by ANU's Water and Landscape Dynamics group with seed funding from the Australian Research Council and the Bureau of Meteorology. It was made possible by collaboration with the National Computational Infrastructure, CSIRO, Bureau of Meteorology, Australian Bureau of Statistics, Geoscience Australia, TERN AusCover, NASA, and others.
Data Description 
You can find a brief description of the origin of each data layer by clicking the information icon behind the indicator title in the map legend or chart box. A full description of the methods can be found elsewhere, with the primary methodological references listed below:
If you have any questions about the methods and the data on our website, please do not hesitate to ask us about it!
Downloading data
Before downloading any data please note our general disclaimer.
Regional Summary Data
You can download Regional Summary Data directly via the 'Get the data' link below the data chart on the website. If you wish to download all available data at once, you can find all data in csv format here.
Gridded data
All gridded data can be accessed and downloaded via NCI's THREDDS service in NetCDF4 format. If you are familiar with these then you can directly access our data catalogue. You can find annual files with data at the highest temporal and spatial time step available. To access the gridded annual maps you can also follow the Direct Download Links below. If you are not familiar with the NCI THREDDS you can find a good description here. Various software packages have native or external utilities to read NetCDF format, including QGIS, ArcGIS (instructions here), Matlab, Python, and ENVI/IDL. You can find a partial (if somewhat dated) list of processing and viewing software here.
Direct Links
Note: each file contains multiple layers; one for each year in the record.
For more information on the methods used, see the Data Description above.
Disclaimer
The material provided through this website is experimental and derived through active research. The Australian National University does not have a legislated role in providing authoritative information. All information is made available on the understanding that it does not constitute professional advice. Before relying on the material in any important matter, users should carefully evaluate its accuracy, currency, completeness and relevance for their purposes, and should obtain any appropriate professional advice relevant to their particular circumstances. Links to other websites do not constitute endorsement of material at those sites, or any associated organisation, product or service.
Frequently Asked Questions
Below are some questions that have been asked. If you cannot find the answer you are looking for, please contact us (our contact details are at the top right) and we will do our best to help.
Can I use the data?
Absolutely! We are delighted for you to use the data in any way you like. Do take note of our general disclaimer before using any of the data. In terms of licensing, all data is provided under Creative Commons license (CC BY 3.0 AU – you can find details here). Essentially, we only ask that you identify the source of the data in your communication. Where we use third party data, those, too, were made available under a Creative Commons license and so the same applies there (see 'How should I refer to the data?' below). Of course, we would very much like to hear your experience in using the website and data, so we can improve their usefulness as much as possible!
How should I refer to the data?
If you are using downloaded regional summary data or visual material from the website, we suggest you cite them using the following details:
Van Dijk, Albert. I.J.M., Summers, David (2016) Australia's Environment Explorer, The Australian National University (http://www.ausenv.online) DOI: 10.4225/41/5934faf27397b
If you are downloading the gridded data, then you can find citation information in the metadata of each data file. For technical references to the methods used, see the Data Description.
The data units shown in the pie chart seem wrong?
These units result when multiplying the units of the primary gridded data with the area covered. If the primary data were expressed as mass per unit area or water depth, the result will be total mass (e.g., tonnes Carbon, tC) or water volume (ML), respectively. The result can be somewhat unusual in other cases. For example, if the units of the primary data were fraction (or percentage) of the area, the result will be in square kilometres; if they were events per unit area, the result will be an estimated total number – but not necessarily a round number (see below).
Why are the regional fire occurrence numbers in the charts not round numbers?
The gridded fire occurrence data provide the number of fires per 2.5 km resolution grid cell, which is the approximate accuracy with which they can be located. For the regional summaries, these data are transformed to 250 m resolution so they can be combined with land cover and region mapping. This is done by assigning each cell 1/100th of the number of cells in the original data. As a result, the estimated number of fires is usually not a round number.
Some areas seem to be incorrectly mapped as having been inundated?
Any remote sensing mapping method is prone to certain sources of error. For the Open Water Likelihood algorithm used here, known issues include shadows, snow cover and bushfire burn scars being mistaken for open water due to their low reflectance in shortwave infrared wavelengths. Reducing these errors is the focus of current research.
Where there really no fires in 2000 and 2001?
There were. The GA Sentinel Hotspots Mapping system on which fire occurrences are based came into operation in 2002. Therefore there are no data for the 2000 and 2001. As the system came into operation during 2002, data for that year should also be considered incomplete.
It says the tree cover mapping was done at 25 m resolution but the map does not seem to have that detail?
That is correct. For visualisation purposes, we resampled the original data to 250-m resolution, in the process changing the units from binary forest/non-forest mapping to fraction tree cover. The original 25-m resolution data can be download from our THREDDS server here. Given the large size of entire files, we strongly recommended you use a NetCDF subsetting tool to download data for your area of interest only.
Why is the number given for the total area of Australia not always the same?
The area of Australia listed in the chart box represents the total area of all regions combined and depends on the region boundary view you have chosen. For example, it may show the total area of all Ramsar Wetlands or National Parks, or in River Region view, the combined area of all mainland catchment. Even between types of regions that cover the entire continent numbers can vary, for example depending on whether certain water bodies were included or not.
Why does the map of river flow changes not agree with other data I have?

The river flow changes are estimated by assuming that river inflows flow through the river channel network without obstructions or losses. In arid rivers, this will lead to overestimation of flows and potentially unrealistic changes from one year to the next, although the direction of change is likely to be accurate. In regulated rivers, river flows may be stored, released and diverted for use, and in such cases flow patterns may be quite different from those estimated here. If your main interest is in such rivers, we recommend you use station data instead. These can be easily found on the Bureau of Meteorology's website.